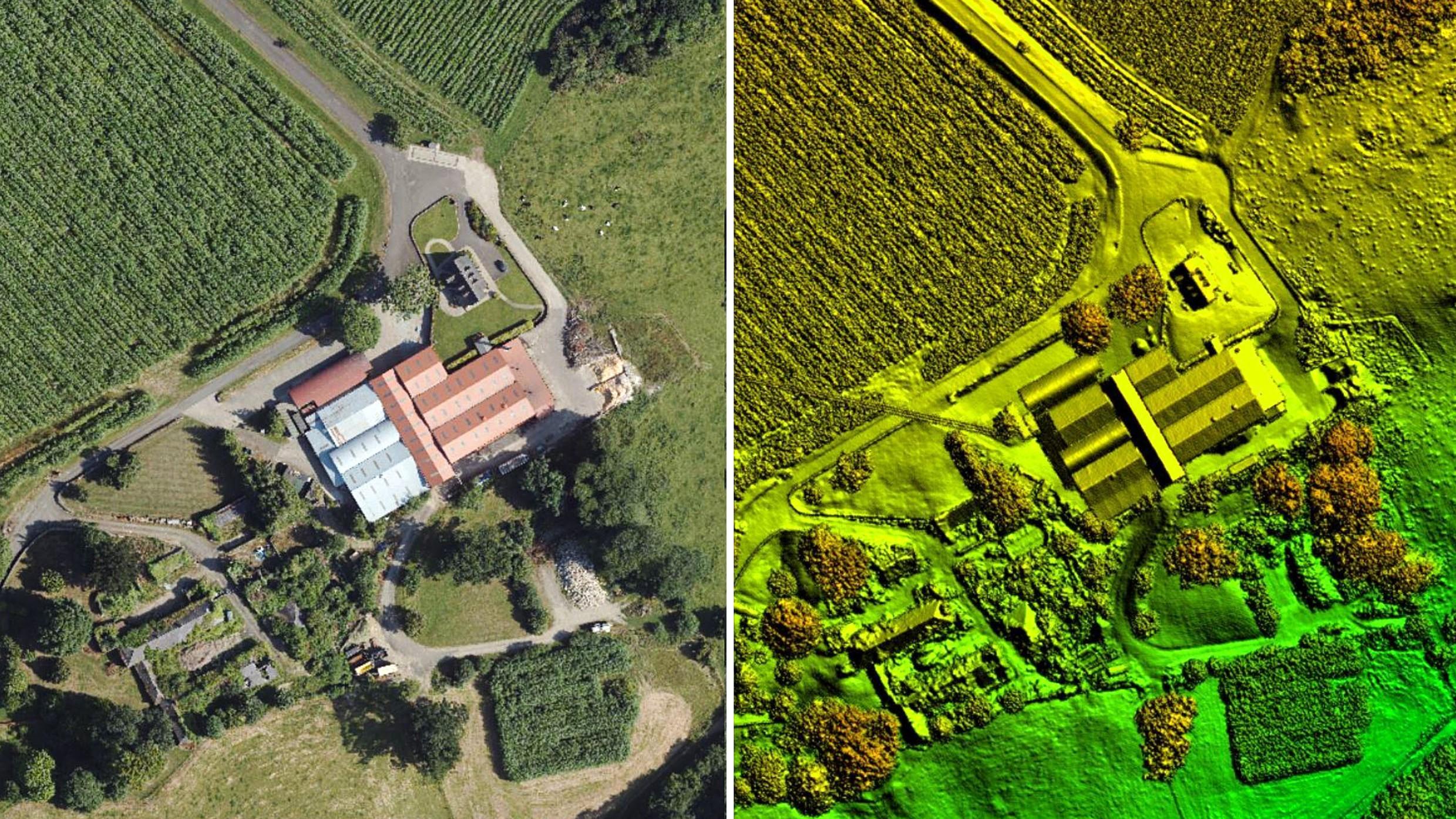 A European Innovation Partnership project to accelerate the move towards net carbon zero farming is using specially commissioned LiDAR data to create a baseline for future measurements. Working with ARCZero (Accelerating Ruminant Carbon Zero) aerial mapping company Bluesky recorded LiDAR measurements for seven commercial farms across Northern Ireland. This data is being used to calculate above ground carbon storage which will be combined with the results from a whole business Life-Cycle Analysis calculator to inform future farming practices.
"Actual net farm green house gas footprints, at individual farm levels, are not currently known as most methodologies calculate gross footprints for farm enterprises," commented John Gilliland, Chair of ARCZero Operational Group and partner at Brook Hall Estate, Londonderry. "In addition, on-farm carbon stocks and their potential for carbon sequestration is rarely considered.
"Using the Bluesky LiDAR we can precisely measure stocks such as soils, trees and hedges," he continued. "This data, when combined with actual carbon inputs and outputs, will allow us to accurately calculate a base-line greenhouse gas position for each farm. Having assessed the current position, we can then prioritise future management practices whilst also making each business more economically resilient. Once finalised, we will share our experiences to help other farms accelerate their move to net carbon zero farming."
Each farm is supplying input and output data at the start and the end of project which will be analysed using the AgReCalc carbon footprint tool. The farms will also undertake soil analysis to measure carbon content and bulk density. The Bluesky LiDAR data is being processed by researchers at the Agri-Food and Biosciences Institute, using ArcGIS, to locate and measure above ground carbon storage.
The LiDAR data is also being used by Rachel Cassidy of the Agri-Food and Biosciences Institute (AFBI) to identify potential routes of overland water flow, including rainfall, that may impact the volume of soil present and the nutrients contained. This information will also be considered in terms of potential pollution incidents.
All results will be entered to the AgReCalc calculator to determine overall gross farm emissions. This information will then be added to the carbon stock results to create a net farm carbon balance from which future management practices will be assessed.
ARCZero is a recently formed, farmer led innovation group supported by The European Innovation Partnership (EIP) Scheme which, in Northern Ireland, is jointly funded by the European Agricultural Fund for Rural Development (EAFRD) and the Department of Agriculture, Environment and Rural Affairs (DAERA). Other project partners include Devenish, Queen's University Belfast, Birnie Consultancy and AgriSearch. Further information can be found on the ARCZero website: www.arczeroni.org