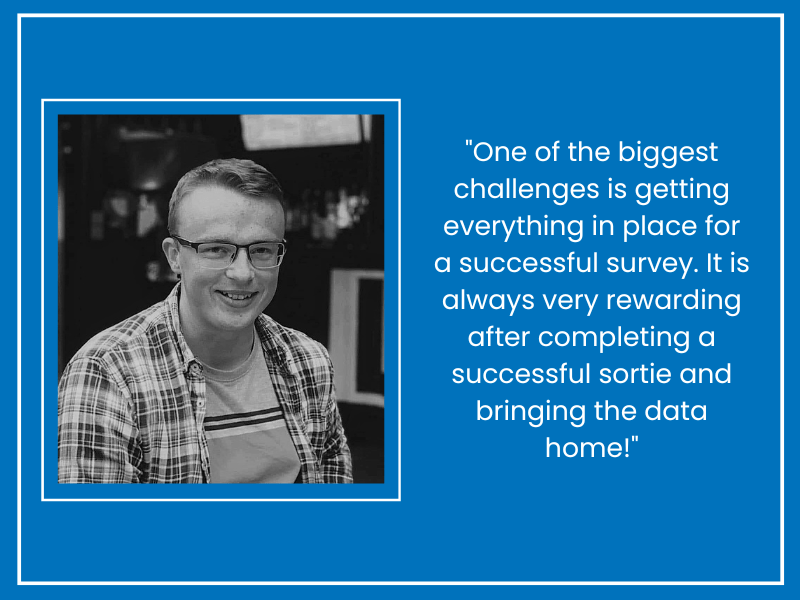 We caught up with one of our Airborne Operators, Alex Brown, to find out more about his role at Bluesky.
How long have you worked for Bluesky?
Since the start of May 2019 – time has flown (excuse the pun)!
What did you do at university?
I studied for an MSc in Remote Sensing and GIS and a BSc in Geography at Aberystwyth University.
How does a typical day in the life of your role look?
Everyday can be different, sometimes we are out all day/night capturing data from the skies, this can be very weather dependent. Sometimes it can be more office-based working on flight planning and permits and organising our projects. Other times we are out on the ground collecting control points to verify the accuracy of our projects.
What does 2022 look like for you?
Hopefully this will involve lots of data capture across projects all over the UK, Ireland, and France!
What's a memorable area you've seen from the aircraft?
Most places look great when we're up in sunny weather through the Summer, especially some of the more mountainous regions and then anything coastal. My favourite place so far to visit was the Hebrides – it looks almost tropical on a clear day!
But as a big football fan I always keep an eye out for stadiums, although I'm yet to fly over the Emirates.
What are the biggest challenges and rewards?
One of the biggest challenges is getting everything in place for a successful survey as there are a lot of factors that lead up to getting projects completed. So, it is always very rewarding after completing a successful sortie and bringing the data home.
It's not a typical 9-5, so sometimes we are up in the air in the early hours making the most of clear night skies. However, I think being part of a super friendly team who would do anything to help each other is a bonus when coming in to work, it makes life much more enjoyable.
What's something that would surprise people about your job?
There's no trolley service on the aircraft – it's bring your own snacks!
What skills are the most crucial to succeeding in this career?
I think generally you need to be a motivated person who isn't deterred by small setbacks or changes in plans. As a lot of our flying is very weather dependent, plans are often fluid. You must have a good tolerance for turbulence as some of our lower-level projects in the summer can get quite bumpy! Organisation is also a key skill to make sure we are on top of our capture opportunities.
What's your best advice for someone looking to move into this field?
You need to be open to learning if you're joining as a Trainee Operator. There is a lot to take on board, from planning software to airspace charts, but there's lots of exciting new things to learn if you're not familiar with the industry. Having a good understanding of weather is also a bonus as this is something we always closely monitor.
Be flexible. We have a fast-paced working environment where plans regularly change so it's always good being open to the changes. And finally, again, back to the snacks – keep a good variety handy as we have to keep the pilots happy!