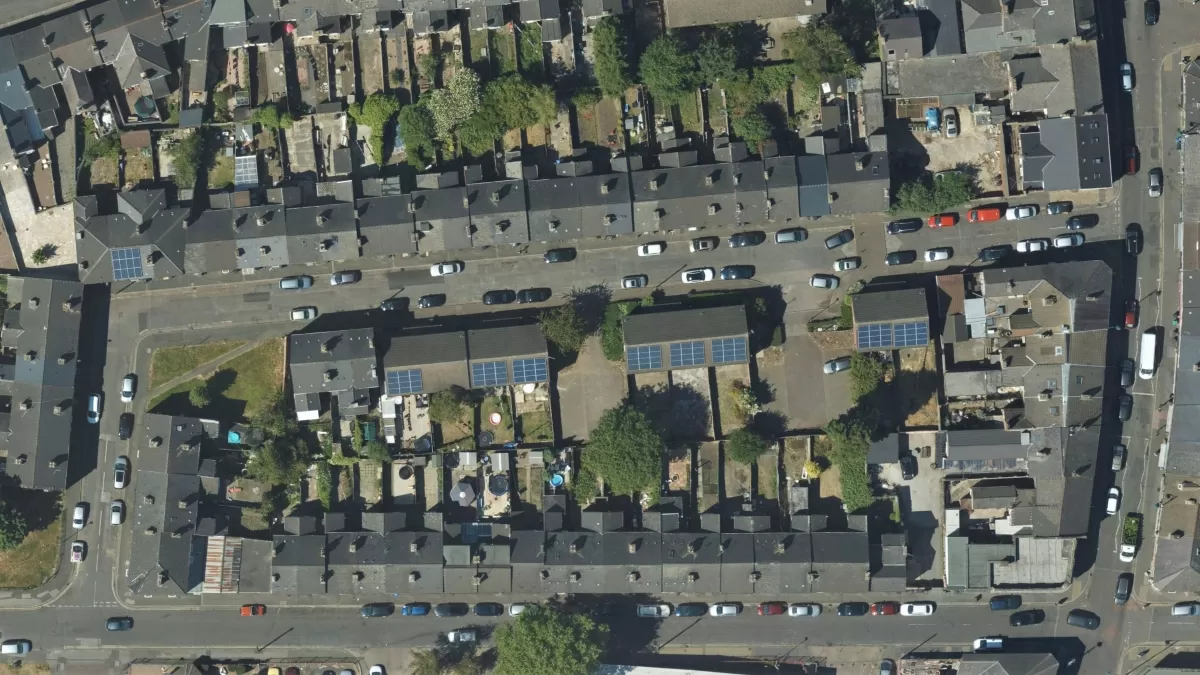 With solar energy becoming a crucial component in the journey towards achieving net zero, Geospatial Insight and Bluesky International are proud to unveil their strategic partnership aimed at transforming the landscape of solar rooftop analysis and coverage across the United Kingdom and Ireland, at the 2023 Solar & Storage Live event held at the NEC in Birmingham.
The partnership will see Geospatial Insight and Bluesky join forces to address two critical aspects of the solar energy sector: the comprehensive analysis and recording of existing solar rooftop installations in the UK, and the pursuit of comprehensive identification of rooftop solar opportunities in Ireland.
Identification and recording of existing rooftop solar arrays across Great Britain will be achieved by combining Bluesky's best-in-class digital photography and Geospatial Insight's cutting-edge machine learning capabilities providing invaluable insights for public and private stakeholders.
Rooftop Solar opportunities in Ireland will be identified by using Bluesky's state-of-the-art 3D topographic data and then applying Geospatial Insight's automated rooftop analysis techniques to assess the solar potential of over 2 million buildings, promising to unlock unprecedented opportunities for solar development.
Dave Fox, CEO at Geospatial Insight said "Our LOCATE SOLAR platform is already supporting numerous public and private stakeholders in shaping their net zero strategic approach. Adding Bluesky's remotely sensed data, which is the best in class and most up-to-date available, will result in LOCATE SOLAR becoming the most comprehensive and detailed Solar platform on the market."
Rachel Tidmarsh, CEO at Bluesky International, commented: "As the renewable energy sector grows rapidly so does the demand for high quality and accurate geospatial data. This partnership will enhance Geospatial Insight's already market leading solutions and deliver high quality and current solar mapping data to customers. We are very pleased to be establishing this partnership and look forward to working together to bring these products to the market."
This strategic partnership signifies a bold step towards a more sustainable future, aligning with the shared vision of both companies to drive innovation and impact in the renewable energy sector.