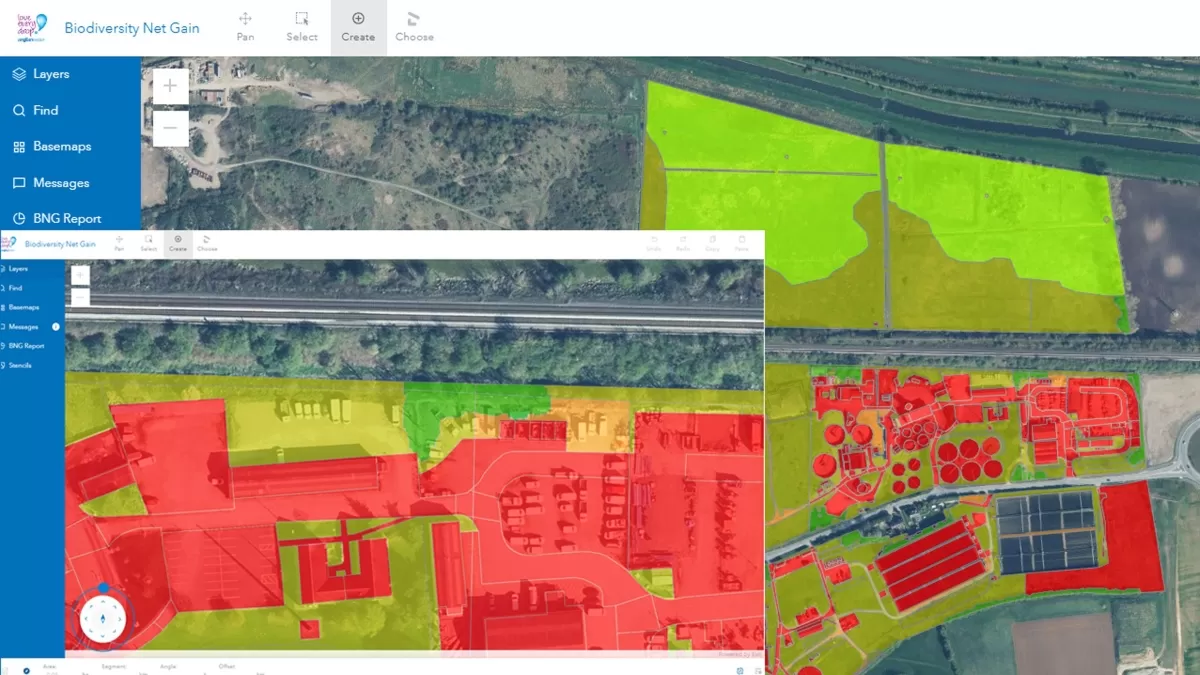 An alliance that is delivering £1.2 billion of capital investment schemes for Anglian Water is streaming aerial maps to improve decision making, with the aim of reducing site visits. The @one Alliance, a partnership consisting of seven companies who each provide specialised knowledge, is using the Bluesky data-as-a-service offering GeoStream to deliver the highest resolution, most up-to-date imagery for its Solution Web App. With nationwide coverage, the simple subscription service ensures regularly updated content providing real-world context for users throughout the Alliance.
The @one Alliance's Digital Team is pioneering this use case amongst a wide range of new capabilities encompassing earth observation technologies. The Bluesky data includes high (12.5 cm) and ultra-high (5cm) resolution photography which is streamed directly into the @one Alliance web mapping app where it sits alongside 150 feature map layers including custom data such as proposed design solutions, ecology survey information, utility plans and publicly available resources.
"GeoStream ensures our specialist users can access the data they need, when they need it, directly from their desktop or internet enabled device," commented Edward Hixson, Graduate GIS Data Technician within the @one Alliance. "Because the data is streamed directly into our Solutions Web App, there is no requirement for data storage, we are not continuously sourcing or procuring data and we have confidence in the data accuracy, currency and coverage."
Applications of the Bluesky data within the Solutions Web App include use by the Alliance Enabling Team who need to understand a site's environmental features and assess the potential impact of the project. Sitting alongside map layers including flood zones, Sites of Special Scientific Interest (SSSI) and protected wildlife maps, users can understand the proximity of the site to sensitive locations and make informed decisions as a result. The infrastructure design teams can also use the Bluesky data to validate existing asset data, enabling them to make more informed decisions about where further surveys and ground investigations may be required.
Another use case example of the GeoStream data for the @one Alliance and Anglian Water is within their new Biodiversity Net Gain Tool. This tool allows the user to record proposed changes in habitat to achieve biodiversity net gain, with the Bluesky data enabling the user to demark changes in habitat type more accurately, resulting in more consistent reporting out the backend. This allows the @one Alliance and Anglian Water to demonstrate how they are meeting their statutory and voluntary commitments to achieve biodiversity net gain and improve the habitats supporting wildlife on our sites, with the Bluesky data a valuable tool in helping track these changes and demonstrate the improvements made to the environment over time.
Emma Morgan, Geospatial Lead at the @one Alliance, added, "Digital and technological advancements are at the heart of what we do in the in the Alliance, we are continuously developing our digital capabilities to enable us to deliver more, more efficiently. GIS plays a huge role in this by providing a platform for our teams to collaborate and engage with projects, with the Bluesky GeoStream service integral as it provides us with quality base data in an easy to consume way, in the right reference system and with superior resolution, giving us a clearer picture of the region we serve."
"Users such as the @one Alliance have already embraced consumption models for software and even collaborative working, so it was a natural progression to extend the benefits they derive to geospatial data. Removing the need to visit a traditional eCommerce platform or host large volumes of data offers significant savings whilst a continuous update and upgrade programmes ensures decisions are informed with the best available intelligence," concluded Ralph Coleman, Chief Commercial Officer at Bluesky International.
The @one Alliance is a collaborative, virtual joint venture formed to deliver the large part of the Anglian Water capital investment programmes. Partners are Anglian Water Asset Delivery, Balfour Beatty, Barhale, Mott MacDonald Bentley (MMB), SWECO, Skanska and MWH Treatment. The @one Alliance is currently working on over 700 projects all designed to improve and expand the Anglian Water Network to better serve existing customers and help ensure supply for future customers as well.
Anglian Water is, geographically, the largest water company in England, covering 27,500 square kilometres from the Humber in the north to the Thames in the south, and from Daventry in the west to Lowestoft in the east. Anglian Water serves the drinking water and wastewater needs of around six million industrial, commercial, and domestic customers.
GeoStream is a new geospatial data subscription service from aerial survey and mapping company Bluesky International. GeoStream is available in two versions; GeoStream Viewer, an intuitive browser-based application and GeoStream Direct, as used by the @one Alliance, which uses Bluesky's hosted Web Services for users to access data within their own software environments. Additional products that are available via the GeoStream service include oblique imagery, 3D height models and the unique National Tree Map.