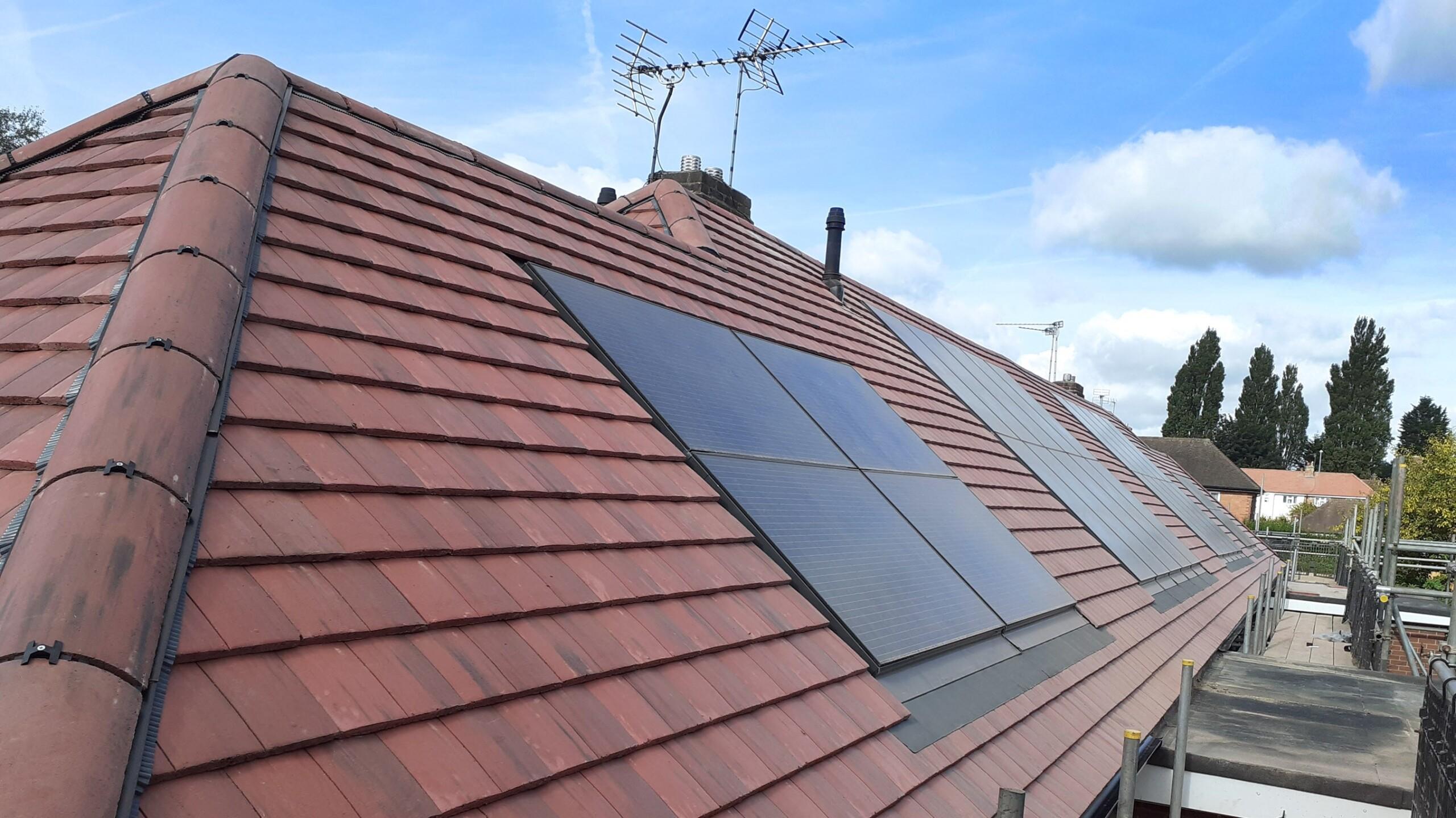 Aerial mapping company Bluesky is helping Derby Homes roll out integrated solar photovoltaic (PV) systems across its housing stock. A project to identify suitable roof coverings assessed more than 8,000 addresses considering size, pitch, aspect, existing furniture and infringing vegetation. Using its ultra-high resolution imagery, Bluesky was able to determine the suitability of each property, measure the number of panels the address could accommodate and calculate potential output. Derby Homes recently installed its first integrated solar array on an initial batch of trial properties identified by Bluesky.
"We had already completed a successful programme of solar installations targeting suitable properties where we could fit large systems. We wanted to help as many residents as possible, so we aimed to fit as many systems as we could in the shortest space of time. These installations saved 1,000 tonnes of carbon, generated 1.9 Gigawatt hours of electricity per year and saves householders on average £150 a year on fuel bills," commented Ashley Redfern, Senior Maintenance Surveyor, Derby Homes.
"Following Derby City Council's climate emergency announcement and the impact of rising energy prices on our residents, we knew we needed to do more," he continued. "Working with Bluesky, we initially defined the study for a 3kW top fitted system, but this did not return as many results as we hoped, so we reduced our threshold to a 2.4kW integrated system and as a result we have already fitted 15 systems and hope to make our case to fit over 2,000 more integrated solar PV systems."
Using the Bluesky derived intelligence, Derby Homes is integrating the installation of solar PV panels with the renewal of existing roofs. This is a cost-effective approach as it uses the roofer to install the integrated tiles and scaffolding that is already up. Derby Homes also plan to use Bluesky's data to ascertain if properties can accommodate different types of top-fitted systems, such as flat roofs, and forecast numbers and costings for future planning and budgets.
Ralph Coleman, Director of Sales at Bluesky, added, "We are seeing an increase in the use of aerial survey data to support carbon reduction initiatives and it is a trend that will certainly continue as geospatial data is at the heart of understanding where existing problems lie and identifying potential for change."
Derby Homes is an Arm's Length Management Organisation (ALMO) and is a wholly owned subsidiary of Derby City Council. Created in 2002 to manage and maintain the Council's housing stock, Derby Homes' core business is the management of and investment in, Derby's social housing stock, comprising of circa 12,600 properties.