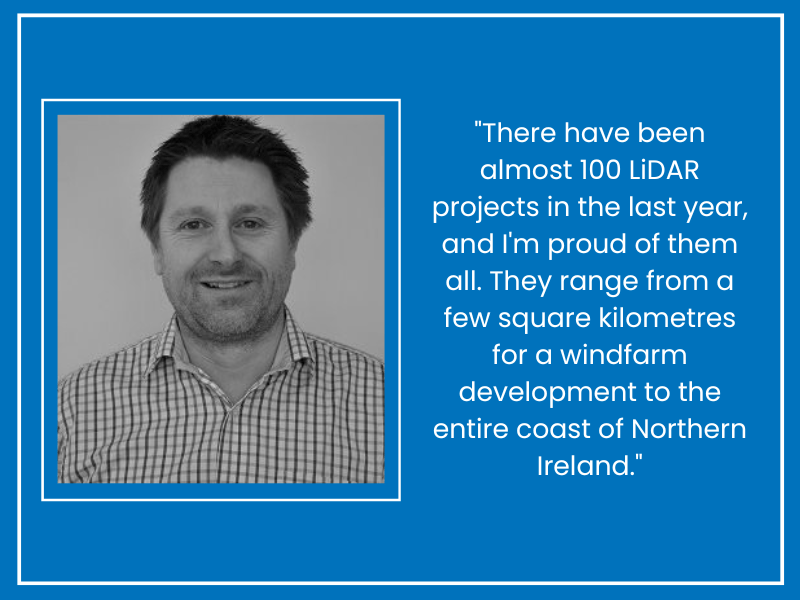 We caught up with our LiDAR Supervisor, Ned Chisholm, to find out more about his role at Bluesky
How long have you worked for Bluesky?
Just over a year, I joined at the end of May 2021.
What did you do at university?
I studied for a Geography degree at Leeds University, graduating in 1990!
I then did a post graduate diploma in Land Resource Planning, this was the first time I made an acquaintance with a photogrammetric plotter, and I've never looked back.
How does a typical day in the life of your role look?
I start my day with a MS Teams call at 9am with colleagues, and afterwards I begin LiDAR processing.  If we have flown jobs the day/weekend before, Mondays can be a very busy start to the week, particularly so if we have had good weather.
A separate team processes the data which then comes back to me and we then get the deliverables ready, mostly DEMs and point clouds, for our customers.
I also help at getting quotes together for business cases, and spend some of my time doing project management.
What does 2022 look like for you?
2022 is proving to be very busy, and that might mean flying and operating camera/sensors!
What's a memorable project you've worked on?
The Natural Resources Wales LiDAR project was already up and running when I joined, and it has been pleasing to get involved with that. There have been almost 100 LiDAR projects in the last year, and I'm proud of all of them. They range from a few square kilometres for a windfarm development to the entire coastline of Northern Ireland.
What are the biggest challenges and rewards?
Coordinating contractors, clients and data, especially when there's a delivery to be made is a challenge but in the end it's all rewarding.
What's something that would surprise people about your job?
This was not during my time at Bluesky but once I flew from the UK to equatorial Africa in a survey plane, it took 3 days.
What skills are the most crucial to succeeding in this career?
It's helpful to know what a LiDAR point cloud looks like!
A key skill is patience, as not everything happens as quickly or as originally planned.  It is also important that you organise your work, communicate and work well in a team as often there are lots of things happening at once.  You need to be aware of what other people do in your organisation and where you fit to make things work.  A bit of common sense and geography helps too.
What's your best advice for someone looking to move into this field?
If you already have the skills, this is for you. If you are a quick learner then this is also for you as we are very friendly team, and are always willing to help!